The concept of universal design embraces indoor design options that produce the greatest amount of accessibility throughout the space. One of these concepts, the open floor plan, provides for improved ease of movement between different functional areas of your indoor living environment by eliminating walls, doors and similar obstacles. 
Keep in mind these factors which can affect a home's universal design: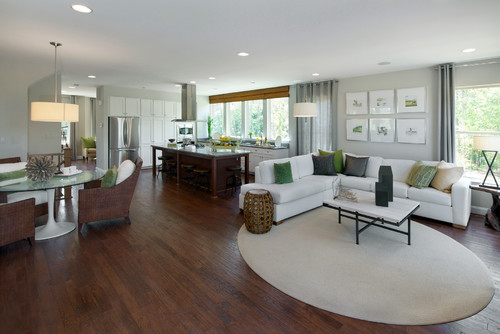 I
mage by
Dc Metro Home Builders
National Association of Home Builders
 via
Houzz
Calculate total space needs: Determine the type and number of smaller functional spaces you'll need within the larger space. An open plan kitchen, for example, could include an area for food preparation, a dining area and space for washing and cleaning. Estimate the square footage for each and make sure the area can accommodate enough room for easy movement through each section.
Determine space relationships: In an open floor plan, adjacencies are similar or related areas that should be kept relatively close to each other. In the kitchen example above, the cooking and dining areas are good candidates for being kept adjacent to each other.
Recognize what you have to work with: Unless you're designing for new construction, you'll have an established space within which to work. Consult with your construction professional, make sketches and take advantage of design tools to figure out how an open floor plan would work within your existing building shell.
Locate utilities, HVAC and plumbing connections: The placement of universal design elements could be affected by the presence of HVAC ducts, access to electricity or gas, and the location of water lines or drains. Make sure you know where these important elements are located, or be willing to relocate them, as you establish your open floor plan.
Contact Sage Builders LLC to discuss applying universal design concepts, such as the open floor plan, to your home design, construction or remodeling project.